Hey everyone!
This is a bittersweet post: sad news but with some special content to make up for it.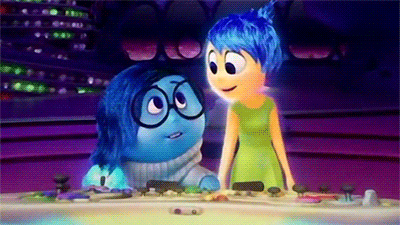 Let's start with the upsetting bit.
After setting up an account on Netgalley a few months ago, the first eARC I got to read was When You Get the Chance, by Tom Ryan and Robin Stevenson. This book is like a ball of wholesomeness radiating with LGBTQIA+ positivity. It's a wonderful and light introduction to queer history and reality. (After finishing it, I got very excited for its publication: I really wanted to get my 12-year-old sister a copy to introduce her to LGBTQIA+ concepts.)
Unfortunately, WYGTC's release date got reported due to the current global health situation. Instead of seeing the light on May 2, 2020, this sweet & rainbowy coming-of-age story will come out on May 4, 2021.
I heard about this from one of the authors herself. Robin Stevenson had agreed to answer a few questions about WYGTC to go along with my review (both posts have been delayed to next spring) but when I sent her the email for the interview, she gave me the bad news.
Obviously, she and Tom Ryan are sad, but Robin feels like it's the right decision. One of the reasons behind her opinion is very sweet and reflects the loveable mood of WYGTC. You can read it in the mini interview below.
Q: What prompted you to write When You Get the Chance?
A: I missed my friend Tom Ryan! He had moved to the other side of the country, and I really missed hanging out and talking about books and writing with him. So I impulsively sent him a text, suggesting that we should write a queer YA novel together…and he said yes!
Q: What is WYGTC's purpose to the core?
A: The novel touches on a lot of things that are important to me: the messiness and complexity of relationships as we grow up and sometimes apart; how much we can all learn from multi-generational conversations; queer history and evolving ideas and language about queer identities; and the love in families, both the ones we are born into and the ones we create.
Q: Why was it important to delay the novel's publication?
A: Well, the publisher thought it was a good idea to delay publication due to the current situation: It's a hard time to bring books out, with bookstores closed, conferences and trade shows cancelled, in-person events not happening, and many people worried about their finances.
It is a bit disappointing, of course, but overall I am very glad we made this decision: I really wanted to launch this book with Tom, but we live thousands of miles apart, and neither of us can travel at the moment. We also really wanted to celebrate this release during Pride month. This book is set partly in Toronto, during Pride weekend– and Tom and I had planned to be there to launch this book at Glad Day Books (the world's oldest gay bookstore!) We had also hoped to do a lot of events connected to Pride celebrations on both coasts, and to offer some fun opportunities for teens.
Of course, because of the pandemic, this year is the first year since the earliest days of Pride that people won't be able to come together to celebrate Pride in person– so none of what we had planned was going to be possible. I am happy that we will (hopefully) be able to have a fabulous, Pride-themed launch in 2021- but sorry that readers will have to wait another year for the book!
Huge thanks, Robin, for your answers!
The Book
My rating: ★★★✰✰
Publication date: May 4, 2021
Reveal Synopsis ⮯

Follow cousins on a road trip to Pride as they dive into family secrets and friendships in this contemporary YA novel — perfect for fans of David Levithan and Becky Albertalli.

As kids, Mark and his cousin Talia spent many happy summers together at the family cottage in Ontario, but a fight between their parents put an end to the annual event. Living on opposite coasts — Mark in Halifax and Talia in Victoria — they haven't seen each other in years. When their grandfather dies unexpectedly, Mark and Talia find themselves reunited at the cottage once again, cleaning it out while the family decides what to do with it.

Mark and Talia are both queer, but they soon realize that's about all they have in common, other than the fact that they'd both prefer to be in Toronto. Talia is desperate to see her high school sweetheart Erin, who's barely been in touch since leaving to spend the summer working at a coffee shop in the Gay Village. Mark, on the other hand, is just looking for some fun, and Toronto Pride seems like the perfect place to find it.

When a series of complications throws everything up in the air, Mark and Talia — with Mark's little sister Paige in tow — decide to hit the road for Toronto. With a bit of luck, and some help from a series of unexpected new friends, they might just make it to the big city and find what they're looking for. That is, if they can figure out how to start seeing things through each other's eyes.
The Author
Robin Stevenson is an award winning author of more than twenty-five books for kids and teens. Her writing has been translated into a number of languages, published in more than ten countries, and has won or been nominated for numerous awards. She writes both fiction and non-fiction, for toddlers through teens.
Find her on: Twitter | Goodreads | Website
Is When You Get the Chance on your TBR? What great books would you recommend to learn/read more about the LGBTQIA+ community? What's your favorite Canada-based story?